This unit is a fictional regiment created for use in the Venables & Luther Adventure series. It was modeled after the 74th Regiment of Foot. The 47th Regiment of Foot was created by Lord Governor Tyler Wellington to protect the African Colonies. They are headquartered at Sierra Leone and Wellington is currently looking for Officers and Soldiers to serve in this new regiment.
Officers
Lord Tyler Wellington, Field Marshall of the Regiment
Lt. General Richard Venables, Second-in-Command
Lt. Colonel Richard Luther, Third-in-Command
Sgt. Nicholas Sharkhayes, Fourth-in-Command (Formerly)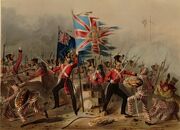 Information
| Soldiers | Cavalry | Ships | Cannons |
| --- | --- | --- | --- |
| 163 Men | 53 Men | 1 Ships | 22 Cannons |
Ships
HMS Horus - Pride of Africa's ships, Ship of the Line, new ship that was constructed in Norway. Contains upper deck, quarter deck, main deck, forward deck. Inside it has, four cannon decks, two decks for the soldiers and crew, and one storage deck. Under the upper deck, the Main Cabin is housed which contains rooms for the officers, a dining room, and the offices.
News
Established September 26, 1745
Ships stationed with the Garrison
Arrival in Africa