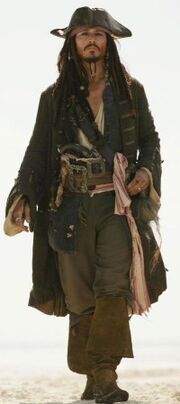 Here is the Warrant of Jack Sparrow from King George II of England and First Sea Lord Matthew Blastshot. Including Charges against The Crown of England.
Charges
Piracy
Kidnapping
Smuggling
Looting
Pergery
Depravity
Arson
Impersonating a Justice of the Court of England
Impersonating a Cleric of the Church of England
Impersonating an Officer of the Royal British Navy
Sailing Under False Colours
Escaping from British Prisons
Attacking Guards in the Presence of George II
Threatening George II and George III
Attempted Murder of Cutler Beckett and Matthew Blastshot
Assisted in destruction of the HMS Interceptor and the HMS Dauntless
and General Lawlessness
Reward For Capture
Jack Sparrow is wanted Dead or Alive.
Reward for Capture
Reward for Death
Reward for Capture of Sparrow and the Black Pearl