| | |
| --- | --- |
| | Blackbeard is a True Master and has mastered everything! |
Blackbeard
is a level 50 pirate who lives in port Royal. His family got taken away from the Jolly Roger and now are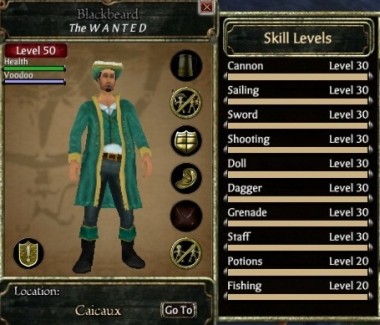 in his army. Blackbeard went to jail for a long time because he made fun of a navy guy. A pirate named Jack Sparrow came to rescue me but soon started to leave me since i said he was awkward looking. So Blackbeard is living a lonely life well he still got some friends but still without a family you are a little lonely. Blackbeard owns a ship called the gun warrior which is a war frigate and doesnt use it much since he is not a fan of sailing. He has a lot of tough weapons that he uses to defeat his enemies. Now Blackbeard ins't a serious type of pirate he seems to be always goofing off and getting off topic. Blackbeard loves to fish and he caught all the legendary fish but he hates potions and hopes he doesn't have to level it ever again. He loves to use his swords but he hates to use his grenades since he's scared he will hurt himself with it. So all that Blackbeard does now is make friends and tries to find the best weapons the game has. So Blackbeard will probably be wondering around the Caribbean and if you see him get ready to see how psycho he can get!
Community content is available under
CC-BY-SA
unless otherwise noted.