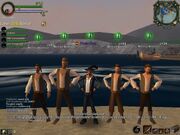 British Revenge was started by Declan Ross. He left the British Co. Elites after GM Johnny Goldtimbers ordered a guild merge with Team Svs. He wanted to start a guild in which the members would not feel neglected by their GM and where they could count on the guild to come through for them.
British Revenge Begins
The main part of Ross's mission after the guild was made was to recruit. It has been slow going but he is working his way up with 67 members now. He hopes to be a medium sized guild, because he thinks that the guild will lose touch if it has too many members. If you want to join just comment on this and I'll set up a time and a place for me or someone else to meet you because I'm never really in the same place or server for lon
British Revenge Continues
Now that the entire ordeal with Ishamel and Team Svs is behind us we hoped to have a bit of calm. But that was not to be as Gabriel/Marz stirred up a frenzy about spies in my guild. I became angry because I trust my guild members more than that. So I yelled at him and a fellow named Landon. And today Gabriel was so nice to inform me that I had just created a war. Fun right? So any help is welcome. xD
Community content is available under
CC-BY-SA
unless otherwise noted.