Camp Baboon Forest is, or was selected as the Featured Article of the Week!
Camp Baboon Forest is the camp for the Francis Brigade, it's where we train and have battles. Camp Baboon Forest was made by Francis Brigade ( George Treasurestealer, Francis Bluehawk, Hawk ). Francis Brigade made the camp as a base for Health and Class Training
HISTORY OF CAMP BABOON FOREST
Camp Baboon Forrest A.K.A. C.B.F. is located at the old Tortuga meat market. The Brigade trains there almost daily, usual traning is drills and musket shooting and sometimes a party or brigade camp out. Outside visitors are not welcomed unless they are there to join. The Name Camp Baboon forest was given due to a few reason
1. Buried in a chest was a chache of baboon swords, pistols, blunderbusses,and broadswords.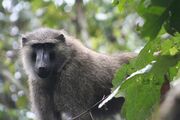 2. An escaped Baboon from the travling circus named screech escaped and was found living in the woods surrounding the encampment.
BATTLES
A few battles and scratches took place at the camp
Such as in the Tortuga news paper: on thursday june 21st 1721 a small band of E.I.T.C. soldiers opened fire on the local militia and army francis brigade. Witnesses said they heard gun shots and smoke coming from the meat market. The 'E.I.T.C. lost five soldiers and the brigade had a soldier who was shot in the arm. The E.I.T.C. retreated back to the long boats while angry locals shot at them and chased them with pitchforks and torches. Witness Francis Bluehawk stated: we were going over drills when all of a sudden musket fire poured down on us and a soldier was wounded. I picked up to flintlocks and sent two of the enemies to davy jones locker.
Community content is available under
CC-BY-SA
unless otherwise noted.