Servers is An Informational Page

Servers on Pirates, are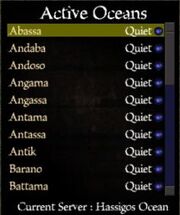 ways of splitting up currently playing pirates. The extreme quantities of servers makes it possible for players to have 3 different experiences:
Full: This server is jam-packed, and there is much activity
Ideal: The condition of most servers, Ideal means a server has a medium quantity of players, and interactivity is limited. Most guilds base on ideal servers.
Quiet: There is almost no one here. This is good for being alone for questing, looting, and having meetings.
Here are the page banners for Deleted Servers, Test Servers, Currnet Servers
| | |
| --- | --- |
| Servers is a Deleted Server | Code={{DeletedServerPage}} |
| Servers is a Server | Code={{Serverpage}} |
| Servers is a Test Server | Code={{TESTServerPage}} |
---
Full Servers Quiet Servers Ideal Servers
Servers
---
Test Servers

---
Deleted Servers
---
All items (104)