Charlotte Heartstealer is, or was selected as the Featured Article of the Week!
Code:
| | |
| --- | --- |
| | Charlotte Heartstealer has reached Notoriety level 50 and joined the No Groggy Club! |
Full Name
Charlotte (Char) Heartstealer
Current Levels
Notoriety- MASTERED
Cannon- Level 22
Sailing- Level 18
Sword- MASTERED
Shooting- MASTERED
Doll- MASTERED
Dagger- MASTERED
Grenade- Level 22
Staff- MASTERED
Potions- MASTERED
Fishing- MASTERED
Description
Charlotte is a spunky, fun-loving pirate who enjoys cackling, going to parties, and being a race car (Vroom Vroom). Although she cannot cook, she loves to eat waffles and toast. She often spends too much gold trying on different outfits and is never satisfied with her hair-do.
Random Pictures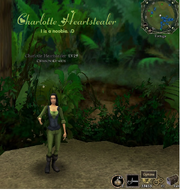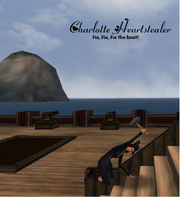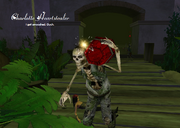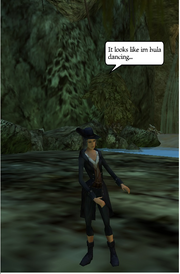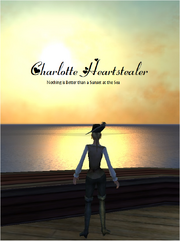 Previous Guilds
Crimson Guard (Charlotte's First Guild)
Francis Brigade
Nonstop Naughtyz
Evil Black Assassins
The Co. Empire
'Officers Path
Stand Out
Elite Dragon Squad
Bounty Hunter Co.
Rogue Burritos
United Empire
Legend Assassins
Paladin League2
Live to Party
Spartan Savviest
Probably a lot more that I dont remember.. o.o
Buddies
Admiral Mog- Whereeeeeeee areeee yoooou???
Ben Costello- The wise one.
Benjamin "Benny Mac" MacMorgan- Yeah... I'd like a Benny Mac with some large fries and a soft drink.
Benjamin "Benny" Swordratte- My friend who is not my friend who might WANT to be my friend again but he wont admit it.. -_-
Bill Irongate- Brother Billy!
Cad Bane- Hi. :)
Captain "Ben" Bennick- Person who writes on my page.. xD
Captain Leon- Teeheee. Hi
Dan Darkeye- My hobbit. :)
Davy Daggerskull- DAVY DAVY DAVY DAVY DAVY DAVY!!!
Davy Dampskull- LIAR!!! Tee Hee. The scary muscle man who dislikes me.. BUDDY
Davy Squidfitte- Hullo. :)
Dog O'hawk- Woof.
Don Leon- My second Guildmaster. He has known me since I was a wee level 10.
Francis "Franny" Bluehawk- My super spifftastic pal.
Hawk- Whyyyy are you alwayss afk?!?
Hawkeye- CUPCAKE! :D
Hector Dreadeaston- Gosh! You happy now??
Henry Calicomorgan- My bestest buddy... who uses big words and sometimes goes crazzzzzy.
Jack Redsilver- You scares me...
Jared "Jar head" Danner- My one and only Jar head.
John Daggershot- I am waiting for you to come online, YOU INACTIVE PERSON!!
John Macbatten- You sicken me. Hehehe, just kidding.
John Warsmythe- -screech -
Johnny Shipbeard- The one who drives me wacky.
Joseph "Joe Joe" Fencer- The bubble stealer who is mean to me. :(
Kirby "Kirbz" Green- The one who confuses meh brain. PLEZZZEEEE COME BAAACH!
Lee Knite- The wicked awesome one.
Matthew Mchazzard- HAI MATTHEW!
Richard Goldvane- :D Richy Richy Richaarrrrdd
Roger McBellows- A man.... who bellows.. :)
Ron- Heyyyyyy yoooouuuu..... :o
Sidney Tha Terrible- Hehehehe.. HAYYYY GURLL FRAAAND
Sloppy "Pig Food" - The weird one. In a GOOD way.
Thomas Chipshot- My wee chipmunk. xD
Tom Wildfitte/Jean La'fitte- The short one with the tasty hat. -eats Tom's Hat-
Victor O'Pane- My "bro".
"If I forget you, SORRY!!"
Farewell
THANKS FOR VISITING! Now get out. -_- JUST KIDDING! HAHA. No.. really.. leave.. :p
-throws toast-
-Char