The City Of Fire(or Town Of Fire) is a Top Secret Underground City designed to keep Gen Of Peace Guild members and any high rank official in Royalle Alliance safe for a specified amount of time. the location chosen was Royal Caverns, Port Royal , Cortevos server. and in memory of Bess Firebones. Namely a idea based off of City Of Ember (which also references Fire), There is a sister city in Thieves Den, Cortevos named City Of Water.
Areas
The city is split into different areas :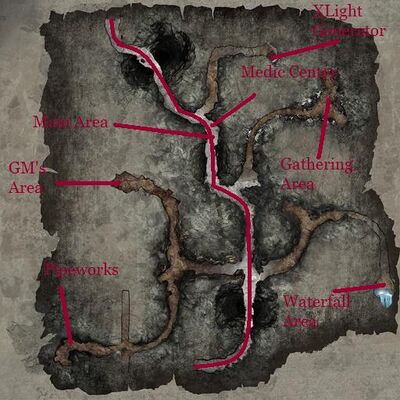 Pipeworks - the plumbing and outhouse area
GM area - The area where the Gm can stay it has a nice table and chairs for guests.
Main area - the long road down middle all across this area are storerooms of boxes of supplies food and other things.
Gathering area - place for people to stay.
Medical center - the medical area where the doctors and nurses work
Waterfall area- supplies power to the HydroLight Generator and water towers
Origin
The idea of this underground city came from Bill Plunderbones and Lawrence Daggerpaine on May 4, 2011. I'll scouted around and planned every detail. They chose Royal Caverns as this city's location due to it being on Port royal and held a lot of memories of Bess in it. Construction began on May 5, 2011 and was completed later that day.
Different features
As all building areas made by the industry the city is set in a Cloak Device to prying eyes. All torches have been replaced by XLIGHT bulbs(more on that on
Daggerpaine industries
). There is a plumbing system already installed the place used to be the Royal Mining Town but was closed down. There are a number of Navy and EITC NPCs there but due to Bill's technology, he made them into Robot Guards. Every area has at least one water tower so clean water can be used all over not just from one area.

In Memory of
This City has also been built in memory of Bess Firebones(hence name FIRE town) a statue of silver, found there in the old mines of Bess was constructed in-front of the Medical Center.
Construction Form
The official construction form of City Of Fire.
CITY OF FIRE
MADE TO PRESERVE THE MEMBERS OF GEN OF PEACE GUILD AND ROYALE ALLIANCE
LOCATION: ROYAL CAVERNS, CORTEVOS
BEGAN CONSTRUCTION MAY 5 2011 ESTIMATED COMPLETION TIME - 7:00 SAME DAY
CREATED BY: BILL PLUNDERBONES FUNDED BY LAWRENCE DAGGERPIANE MANUFACTURED BY DAGGERPAINE INDUSTRIES
SIGNATURE.......
Lawrence
Daggerpaine,
GM
of the
Gen. Of Peace

SIGNATURE.......Bill Plunderbones, Head of the Society of Light. Co-GM of the Gen. Of Peace, Emperor of Japan Ceo of DI,
Community content is available under
CC-BY-SA
unless otherwise noted.