Cortevos is a Deleted Server

Cortevos is usually a quiet server, sometimes being ideal. It is a good place to loot with the little amount of activity there. The corporation Daggerpaine Industries is located on Cuba Cortevos.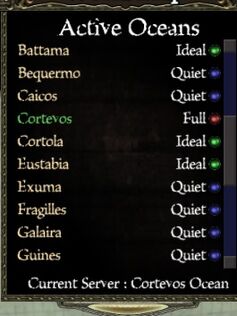 This server was the only one not to be hit by the Asteroid impact due to actions taken by The Gen Of Peace instead, its climate shifted into a deep freeze.
Cortevos is the main server of the Light of Destruction...
It was removed in the Cataclysm of March.
Players
These players LOVE Cortevos!
Lawless
Jack Warskull
Bess Firebones

Richard Goldvane

Christopher Ironshot
Guilds
These guilds make their home here.
Royal British Military
Co. Black Guard
Law's Brigade
Fan Locations
These locations are on Cortevos
Fan Companies
These companies are on Cortevos The Club. Daggerpaine Industries
 Demise 
On March 25, 2013, A cataclysmic disaster struck the Caribbean again This time destroying 15 servers, Cortevos being one of them. Due to anticipation, fail-safes by the Society of Light and Gen. Of Peace, in any case, Cortevos is attacked or destroyed, The bases and other militaristic items were teleported to an unknown location. Daggerpaine Industries main factory was destroyed but its content was taken to the hidden Bunker on an unknown server. City of Water and Fire could not be salvaged. The Light Sanctuary was always protected by an energy field and was teleported to the Realm of Light. The Gen.of Peace navy was hidden way before so it is intact.