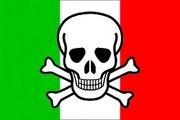 Davy McSteel is a Pirate Commander, Irish Rebel, and Italian Soldier. He owns the Wicked Wrath and Buccaneer Rebel. He is in charge of Pirate Armed Forces and Irish Rebels.
Early Life
---
Davy was born in Alleghany City current day Pittsburgh, Pennsylvania USA. His father was born in Nicastro Italy and his mom was born in Dublin, Ireland. At an early age his father took him to Italy. He admired the Roman Civilization. He began to become an engineer for the city of Rome. He soon became a famous engineer and took an intrest in politics. When he was 17 his cousin died after a Royal Navy member captured him and accused him of being a terrorist and was convicted of killing a Belfast city official in ireland. Davy soon moved to see his family in Belfast.
Belfast Riots
---
Davy soon decided to speak out against the british presence in Ireland. He participated in several riots and was arrested. When the court found him not guilty of several charges. He left for Dublin to find out that Italy was in war with Germany.
War with Germany and Jolly Roger
---
Davy served with the Italian armed forces when he returned to the Carribean with his friend Jack Sparrow made him commander of all pirate forces with the Brethren. He defeated the EITC in the battle of the Salty Flats, Jolly Rogers Army in the battle of Ravens Cove, Davy defeated Davy Jones in the invasion of Tormenta. However his winning streak wouldnt last long. The Navy captured him and his crew of the Hiltons revenge. He was found guilty of piracy and his crew was executed by gunfire and he was scheduled to be hung in public at Ft. Charles before that could happen the EITC's leader, Cutler Beckett, decided it was to risky to hang him in a smaller fort. He was sailed to Ft. Dundee when half way through they were orded to sail to Kingshead and he was to be executed there. As soon, as he was six miles away from Kingshead the pirate ship the spainish gunfire captained by Edward Villenuava he returned to tortuga to plan his revenge.
Community content is available under
CC-BY-SA
unless otherwise noted.