Dog Raidrage has been a member of many guilds, including The Guild of Angels and Driver's Education. He also has been the Guildmaster of many guilds, leaving when members stopped coming online or started conspiring with the Co. Empire. Raidrage is the current GM of The Elite Gunslingerz. His ship is called the Riptide Raptor.
Levels/Records
Notoriety:49
Cannon: 24
Sailing: Mastered
Sword: Mastered
Shooting: Mastered
Doll: Mastered
Dagger: Mastered
Grenade: Mastered
Staff: Mastered
Potions:10
Fishing:Mastered
Most glitches done in half hour: 7
Height:6'3
Weight: too light for a big boy scale right now
Legendary/Famed Weapons
Lost Sword of El Patron-Legendary
Nautilus Blade-Famed
Masterwork Broadsword-Famed
Buccaneer's Blunderbuss-Famed
Privateer's Bayonet-Famed
Executioner's Pistol-Famed
Bush Master Pistol-Famed
Skullbone Repeater-Famed
Spell Binder doll-Famed
Some other things that he can't remember (maybe)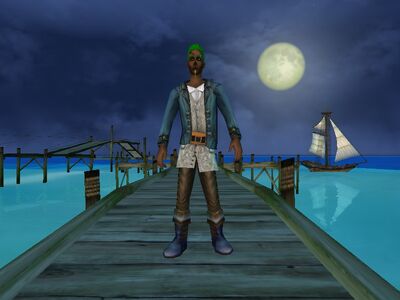 Community content is available under
CC-BY-SA
unless otherwise noted.