EITC Catalog is an outdated article. No further edits on this page are needed, unless they are spelling mistakes. This page acts as a Historical Document and is not intended to start any arguments or hurt feelings.
The
EITC Catalog
is a collection of EITC styles that EITC soliders might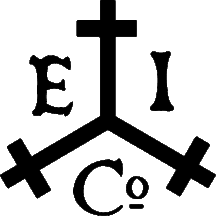 wear.
Founder of Catalog - Captain Robert
Photographer - Simon TreasureHawk
Photographer - Edgar Wildrat
Photographer -
Main Outifit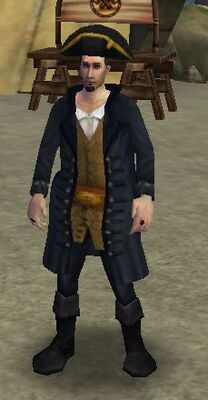 Admiral Hat - Very expensive hat that many great and powerful leaders of the EITC wear. Comes from England made from the finest leather and golden ring around the hat.
Adventure Coat - Made from the finest silk and leather buttons that England can buy. Died with a special black die that could only be found from England.
Adventure Breeches - Fine English leather, very expensive and very comfortable. Died with a special black die that could only be found from England.
Adventure Boots - Real Indian leather that is super expensive and only imported from the EITC ship of the line war ships.
Fine Silk Shirt - This shirt is made from the finest silk from India. Expensive but EITC are given to for free. Others may have to pay though.
Embelished Vest - Tradational for the EITC to have something to make sure the EITC have their own logo. It comes in different colors and more commonly white.
Gold Skull Belt - So those breeches don't fall and it's made from purest gold coming from India. Special Thanks to the EITC.
Cost: Quest Items and around 5000 gold pieces
Admiral Outfit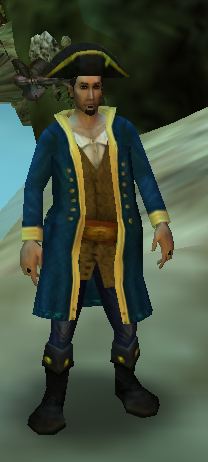 This is to show your wealth. This is worn by great EITC leaders and the jacket is made of pure gold and silk that comes from far away places.
Admiral Coat - Elegant coat. Golden buttons, cuffs and interior. Beautiful sea blue silk to make you look rich and wealthy
Admiral Breeches - Made from beautiful blue silk ,comes from far away lands.
Blue Fur Top Boots - Boots that have golden studs on the top to show that you come from wealth and not from a poor history.
Embelished Vest - Golden in this picture to show that you have enough money to make your vest golden.
Silk Shirt - Beautiful shirt of the finest silk that the EITC can buy. Rumored to have golden buttons in side shirt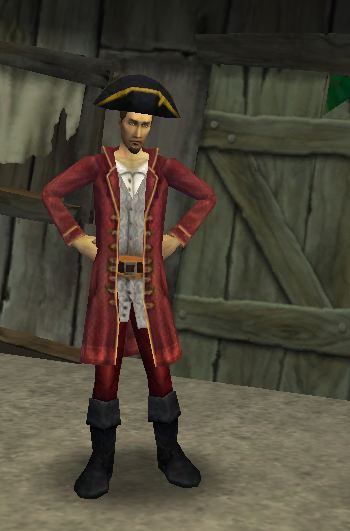 Admiral Hat- Very Brilliant for Royal Navy and this hat is ordered from Enlgand to show off the wealth of the Navy's power
Club Coat- Royal Navy's Color's and official Navy coat
Festival Breeches - Very stylish and expensive too to get this silk from the finest silk from England.
Silk Shirt - Formal, official and makes sure that you look amazing
Embelished Vest - Showing power and wealth
Adventure Boots- Died black and when kicking somebody off your ship
This outfit is the official outfit for Royal Navy members!
Community content is available under
CC-BY-SA
unless otherwise noted.