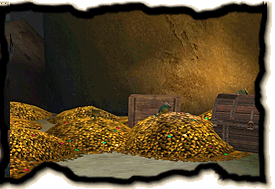 The hoard of Ebon Slicin is a vast collection of ancient and priceless items.
History
The hoard of Ebon was once a small room full of weapons aboard the HMS Black Swan. As Ebon Slicin's travels grew, so did the hoard. It eventually found itself a home under Slicin Manor in Manchester, England. People who lived near Slicin Manor grew accustom to the strange man named Ebon Slicin, who owned the manor. The often saw crates and barrels coming and leaving. The secret could not be held, however. Somehow, word leaked of his hoard, and he became a town mystery. When the people got news of Ebon moving, they were overjoyed that the horrible hoard would be leaving.
The hoard found itself a new home in the Caribbean, on Ebon Slicin's new home, Swan Isle. It stayed buried underground for twelve years. Finally, when Jolly Roger came, he destroyed wrecked everything. The hoard was spread out across the Caribbean. Begin the hunt!
Known Weapons