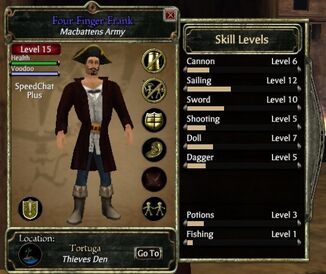 Four Finger Frank isn't a pirate. He's not even who you'd expect him to be.
History
Isla Perdida is where it all started. Captain Leon had just launched an expedition into the jungles, when Jeffrey Blasthawk ambushed him. They went into a battle, in which Leon was killed, his battle hat stolen, his body in a shallow grave. It took the EITC half an hour to recover the body. Finally, they recovered the body from a shallow grave, built a makeshift coffin out of wasp shell, wood, and wasp stingers. They sent it to Padres del Fuego, where it was brought to a funeral home, and given a proper coffin. He was then buried on Cutthroat Isle. However, a week after Leon's death, Four Finger Frank appeared, claiming to be Leon. Everyone believed him, until a few pirates, did a background check. It turned out Four Finger Frank is John Macbatten.
Information on Four Finger Frank
Notoriety- 16
Sword- 10
Shooting- 5
Sailing- 12
Cannon- 6
Doll- 7
Dagger- 5
Potions- 3
Fishing- 1
Other Appearances
Placed in article in Viceroyalty Co.
Referred to in the end of Captain Leon's Biography
Topic of war on National Caribbean Alliance
News Controversy in The Alliance of The Lords
Briefly mentioned in Brethren Alliance
Mentioned in John Breasly's Autobiography
Given partial talk in the book The EITC Warring Period