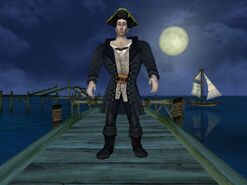 Hello, welcome to my page! I am Gold Craver's personal stalking box!
Gold Craver is Under Construction!

This article or section is currently being edited by Gold Craver!

Please do not edit Gold Craver unless it is a spelling or grammar issue
Summary
William "Gold Craver" Crossbow was ....
Information
Ships
Black Mercenary - Frigate
Weapons
Sword—30
Gun—20
Dagger—17
Grenade—11
Doll—14
Cannon—11
Sailing—12
Status:
Currently Undecided.
Trivia
Gold Craver has made it clear that he has DROPPED all affifialtations, alliances, and so forth until he gets around to changing that again.
Videos