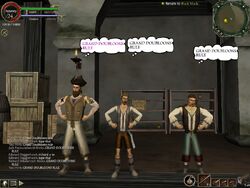 About Grande Doubloons
Grande Doubloons is the main guild for The Netherlands and Belgium.
Grande Doubloons is a guild filled with rich or mostly rich people. Grande Doubloons is a Pirate and an EITC guild. The guild has allies, very few enemies so far, and is part of The Royal Alliance.
The Army of Grande Doubloons is well financed from profits from Trade. The Army and its allies are considered a great force to be reckoned with.
Allies
Benjamin MacMorgan
Captain Leon
King John Breasly
Albert Spark
Samuel Redbeard
Francis Bluehawk
Lawrence Daggerpaine
Robert McRoberts
Duchess of Anemois
Johnny Goldtimbers
Most People Wanted
Guild Allies
The Co. Empire
Viceroyalty Co.
Gen. of Peace
The British Knights
The Company
Any EITC Guild
Guild Enemies
Enemies of Royale Alliance
Motto
In Latin "Ditissimus", In English "Richest of all"
The 12 Cardinals
Cardinals are the guild leaders after King Edward Daggerhawk. There are twelve cardinals in the guild.
Azmeer - 1st Cardinal
Issac Skullsword - 2nd Cardinal
Ned Blastgull - 3rd Cardinal
David Darkmonk - 4th Cardinal
Captain Max - 5th Cardinal
Johnny - 6th Cardinal
Ben Swordroberts - 7th Cardinal
Johnny - 8th Cardinal (Different one)
Studhead - 9th Cardinal
Tusslehoff - 10th Cardinal
The other will be listed soon
Servers
Abassa
Andaba
Andoso
Antik
Esqaugo
Kokojillo
Navermo
Tortos
Vachira
Royale Alliance
Grande Doubloons joined the Royale Alliance when Captain Leon and the EITC were training at The Governor's Mansion on Port Royal. Edward met Robert McRoberts there and started discussing about politics. Robert then offered Edward to join the Royal Alliance, which he accepted. Grande Doubloons is the third main guild in The Royale Alliance.
Alliance Website
http://piratesonlineroyalealliance.webs.com/ is the website for the Royale Alliance
Community content is available under
CC-BY-SA
unless otherwise noted.