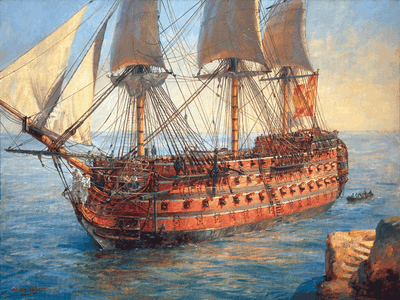 The HMS Augustus
is the Largest Ship in the entire World. She has 200 Cannons and A crew of More than 500 men. Once a Member of the Spanish Royal Navy The San Trinity was the Most Feared Ship. No one ship was ever able to take it on. However, in May of 1722 the HMS Victory, HMS York and HMS London were able to Capture the San Trinity from the Spanish. She was take to London as A Prize ship for His Majesty King George II. His Majesty Ordered the Ship be repaired, repainted and Renamed. The Ship was painted British Colors, British Flags, and British Cannons. King George II christened Her the HMS Augustus. Under the British Control the HMS Augustus will be the Most Feared ship in the Entire world. The HMS Augustus will ensure British Control of All the Waters of the World.
Crew
500 Sailors and Navy
50 Officers
15 Longboats
200 Cannons
Commanding Officers
Lord Admiral Thomas "Masterman" Hardy
Admiral Thoma Foley
Colonel William Tavington
Captain Gregory Summers
Community content is available under
CC-BY-SA
unless otherwise noted.