Jack Pistol is, or was selected as the Featured Article of the Week!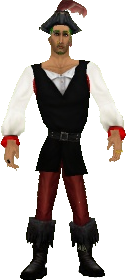 Jack Pistol is a freetrader, pirate, privateer and "businessman" living in the Caribbean. Jack is currently an officer of the Abnormality guild along with a few friends, most notably, Richard Goldvane and Bill Plunderbones. He lives in a manor on Padres Del Fuego, which was bought with ill-gotten riches. Although he is a pirate he is very loyal to the British Empire and many other organizations. Jack is very wealthy and now hardly ever needs to turn to piracy as a source of income. He owns several businesses and has several good jobs that can fill his pockets. He calls himself and many of his friends "upper-class pirates" because they are rich, civil and not so unorganized as most pirates are.
Name
Jack Pistol
Real Name
Not Disclosed
Aliases
James Pistolet
Jackson Pistolet
The Black Pistol (Unverified)
The Godpistol
Various Others

Date of Birth
27 September 1705

Age
40

Race
Caucasian

Eye Color
Brown

Hair Color
Green
Natural Color
Black

Birth Place
le Coin Français
Current Residence
Padres Del Fuego

Father
Not Disclosed
Mother
Not Disclosed
Siblings
Unknown
Wife
Not Disclosed
Children
Megan Pistolet (Disowned)
James "Shipwrcker" Pistolet II (In Hiding)

Vessels Captained
The Storm Hawk (Light Sloop)
The Black Hawk (Light Galleon)
The Gun Hawk (Light Frigate)
The Dark Revenge (Frigate)
The Black Maelstrom (War Sloop)
The Iron Hawk (War Galleon)
The Green Rebel (War Frigate)
The Black Rogue (War Brig)
Les Navires de la Nautillus (ASOTL)
Vessels Owned
The Black Maelstrom
The Green Rebel

Titles
Captain of The Black Maelstrom
Captain of The Green Rebel
Captain of The Black Rogue
Captain of Les Navires de la Nautillus
Governor of the Cape Colony
Godfather of La Mafia
Major General of the Noob Hunters
Officer of Abnormality
Former Titles
Head General of the Port Fraggue Military
Grandmaster of the Order of Nautillus
Chancellor of Warfare of the British Empire
Second Sea Lord of the Royal British Navy
Officer of The Gen. of Peace
Inventory
Records
Total Famed - 64
Total Different Famed - 47
Total Famed Cursed Blades - 4
Total Legendary - 1
Most Famed in one day - 5
Most Famed in one drop - 2
Most New Famed in one day - 3
Total Bright Clothing - 68
Total Different Bright Clothing - 53
Highest Wave in Cannon Defense - 91
Highest Wave in Cannon Defense solo - 16
Highest Cannon Defense Cannon Level - 50 ( Maxed )
Most Damger on a Round of Cannon Defense - 144,000
Most Damage Overall in a Game of Cannon Defense - 3,880,000
Most Splits in Blackjack - 8
Most Gold won in Blackjack - 5,000
Most Gold found in one day - 150,000


Silver Freeze

Seven Seas Cutlass ( x2 )
Doom Rattler
Bruiser's Cutlass
Bloodfire Cutlass
Masterwork Cutlass
Assassin's Cutlass
Bejeweled Cutlass ( x2 )
Spinecrest Sword
Brigadier's Broadsword
Bloodfire Broadsword ( x2 )
Masterwork Broadsword ( x2 )
Bejeweled Broadsword ( x2 )
Dread Spike
Bitter End
Bloodfire Sabre
Sword Master's Sabre
Fullmoon Special Pistol
Executioner's Pistol
Scoundrel's Pistol ( x2 )
Bush Master Pistol ( x4 )
Hex Breaker Musket
Scoundrel's Musket
War Scattergun
Revenant Doll
Doll of Sacred Rituals ( x2 )
Warlord Doll
Explorer Doll
Shaman Doll
Conquistador Doll
Hex Rebound Doll
Dagger of the Golden Idol
Bayou Dagger
Knives of the Golden Idol
Demon Fang Knives ( x2 )
Bayou Throwing Knives
Assassin's Throwing Knives
Knives of the Hawk Idol
Scoundrel's Knives
Shark Fang Knives
Swamp Throwing Knives
Amazaon Throwing Knives
Viper's Den Knives
Lukcy Charm
Searing Cannon Ram
Bloodhound Cannon Ram ( x5 )
Wool Cannon Ram ( x3 )
Makeshift Cannon Ram
NOTE: I can't remember all the duplicate Famed Throwing Knives I have found, so I have included none of them as of this point in time. Any duplicates listed are recent.
Bright Clothing
Dark Black Bandana
Dark Black Cotton Jacket
Dark Black Sack Vest
Dark Black Silk Vest
Dark Black Old Tank
Dark Black Hooked Tank
Dark Black Cotton Highwaters
Bright Red Bandana ( x2 )
Bright Red Hooked Tank
Bright Red Old Tank ( x2 )
Bright Red Cotton Tank
Bright Red Open Cotton Shirt
Bright Red Open Linen Shirt
Bright Red Linen Highwaters
Bright Orange Bandana
Bright Orange Open Cotton Shirt
Bright Orange Old Tank ( x2 )
Bright Orange Linen Puffy Shirt
Bright Orange Cotton Trousers
Bright Yellow Head Band
Bright Yellow Linen Long Sleeve
Bright Yellow Reinforced Tank
Bright Yellow Striped Tank
Bright Yellow Hooked Tank ( x2 )
Bright Yellow Cotton Puffy Shirt
Bright Green Headband
Bright Green Old Tank
Bright Green Reinforced Tank
Bright Green Seamed Tank
Bright Green Cotton Trousers
Bright Green Linen Highwaters
Forest Green Bandana ( x2 )
Forest Green Cap
Forest Green Cotton Jacket
Forest Green Silk Vest
Forest Green Linen Puffy Shirt
Forest Green Cotton Tank
Forest Green Cotton Trousers ( x2 )
Bright Blue Bandana
Bright Blue Cap
Bright Blue Linen Puffy Shirt
Bright Blue Linen Long Sleeve
Bright Blue Open Linen Shirt
Bright Blue Striped Tank
Bright Blue Basic Sash
Bright Blue Linen Trousers
Navy Blue Cotton Puffy Shirt
Navy Blue Basic Sash ( x2 )
Navy Blue Cotton Short Sleeve
Navy Blue Cotton Highwaters ( x2 )
Lavender Cap
Lavender Linen Short Sleeve
Lavender Hooked Tank
Lavender Seamed Tank
Lavender Linen Trousers ( x2 )
Magenta Sack Vest
Magenta Linen Short Sleeve
Magenta Old Tank
Magenta Striped Tank
Magenta Basic Sash
NOTE: These are just the finds that I can remember, I have forgotten many.
Gallery
Loot
Not all items I have found in this category have been screened!
Not all items I have found in this category have been screened!
Not all items I have found in this category have been screened!
Not all items I have found in this category have been screened!
Level Ups
Tales of Jack Pistol
Community content is available under
CC-BY-SA
unless otherwise noted.