History
It was rough waters as Jack Sparrow was sailing. He was going to go fight Jolly Roger with hes Savvys. Unexpectedly a undead ship came out of no where. Then Jack Sparrow grabed for his pistol but it wasnt there...... It was lost at see.
Stats
Kind: Legendary
Attack: 100
silvershot + 5
Take aim+ 4
Picture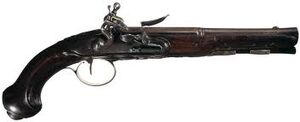 Community content is available under
CC-BY-SA
unless otherwise noted.