Johnny(AKA
JohnnyDaPirate
) is a Famous Pirate in Pirates of the Caribbean Online. Johnny has been on the Leaderboards many times in Various Categories. Johnny is the current Guildmaster of
TSUNAMI
and is the former Co. Guild Master of
We Die Together
! You Can View Johnny's Public Profles for the most Popular POTCO Forums site, PiratesForums by going to the links below!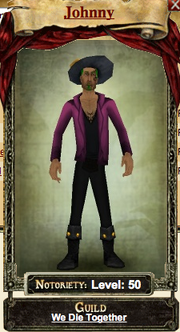 http://piratesforums.com/members/johnnydapirate.73/
http://piratesforums.co/members/johnny-da-pirate.679/
You can Also check out his Youtube Channel by Clicking the Link below! Johnny created multiple videos and still does. He has PvP videos,tutorials, and much more stuff even stuff from other games such as Club Penguin or Pirate 101.
http://www.youtube.com/user/JohnnyDaPirate