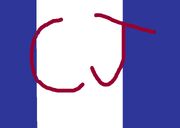 This is Captain Jonnhy's (my alt) Empire's rules. PLEASE DONT EDIT.
Ranks
Newbie (Members)
Rookie (Members)
Landlubber (Veterans)
Swashbuckler (Veterans)
Pirate (Officers)
Pirate Captain (Officers)
Pirate Lord (Guildmaster)
Uniforms/Weapons
Members:
Weapons: Cutlass, Flintlocks, Not repeaters, Doll.
Clothing:
Basic: Bandana/Cap/Band (optional), Plain puffy shirt, Highwaters/Capris, any belt and any boots.
Unlimited: Same as basic, can use vest, but not coats, hats are also permited.
Veterans:
Weapons: Cutlass/Broadsword, Flintlocks and Repeaters, Dagger, Doll.
Clothing: Any hat, Long sleeve shirt, Blue or green vest, Trousers or Highwaters (Capris for girls), Sash (blue or red) and any Boots.
Officer:
Weapons: All.
Clothing: Barbossa's Hat ( Magenta and Traveler's are permited), Any Shirt, Any Vest, Hightwaters/Capris, Buckle Belt (any), Any Coat (optional) and tall boots.
Guildmaster:
Weapons: All.
Clothing: Everything they want except Navy or Eitc stuff.
Community content is available under
CC-BY-SA
unless otherwise noted.