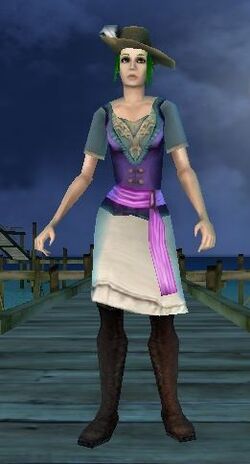 About Kat Bluedog
Kat Bluedog is the newest pirate of Katbluedog. She was created on February 20, 2011. The main reason why she was created was to use the Darkfire Cutlass. Also Kat got bored and there was nothing to do on a Sunday afternoon. Kat Bluedog is named after the Katbluedog's username. She was also made to join the Potco Player's Wiki guild but the guild was inactive. As a result, Kat joined Blue Scurvy Dogs. Kat is the the little sister of Kat Bluebonnet. She was created at the same time that Stpehen created his new pirate. Her favorite color right now is purple and blue but she hopes to loot more brighter colors. She looks like a younger version of her sister, Kat Bluebonnet. Kat has green hair to match the rest of the guild. She also has the same face and body like Kat Bluebonnet. Kat doesn't have any infamy ranks yet because she is a noob right now.
| | |
| --- | --- |
| Skill | Level |
| Sword | Level: 15 |
| Gun | Level: 13 |
| Doll | Level: 8 |
| Dagger | Level: 9 |
| Grenade | Level: 3 |
| Staff | Level: N/A |
| Sailing | Level: 7 |
| Cannon | Level: 13 |
| Potions | Level: 2 |
| Fishing | Level: 5 |
Quick Facts
Level 22.
Only has gun, sword, doll, dagger, sailing and cannon.
Working on leveling grenades or boom-booms as Kat calls them.
Member of Blue Scurvy Dogs
Where to Find her
Cortevos or Vachira. She is usually on Port Royal,Tortuga or Cuba. She doesn't do invasions yet since she would die instantly.
Family
Friends
Check out Kat Bluebonnet's page for the main friend's list.
Userboxes