| King John Macbatten Of Sweden Saw Perry The Platypus | |
| --- | --- |
| | |
| --- | --- |
| | King John Macbatten Of Sweden was or is currently a guildmaster and has joined the Guildmaster's Clan! |
| | |
| --- | --- |
| | King John Macbatten Of Sweden spat on Pearson Wright's grave! |
HEY btw did u know--->
| | |
| --- | --- |
| | King John Macbatten Of Sweden has reached Notoriety level 49! |
| | |
| --- | --- |
| | King John Macbatten Of Sweden is a palladin! |
| | |
| --- | --- |
| | King John Macbatten Of Sweden is Canadian. |
History
John Macbatten was first portrayed as an EITC officer in the service of Captain Leon. When Leon disappeared, John made a pirate named Four Finger Frank, who posed as Leon. This fooled people for a time, until Frank was discovered and killed. He is now a pirate that lives of Ile d'Etable de Porc. He is currently no longer playing.
BUT REALLY, look at this for a more indepth histroy of my sexy life History Of Me!
Джон Macbatten впервые изображается как офицер EITC в службе капитана Леона. Когда Леон исчез, Джон сделал пират Четыре Finger Франк, который выдавал себя Леон. Это заблуждение людей, на время, пока Фрэнк был обнаружен и убит. В настоящее время он пират, что жизнь Ile d'овощные де Porc. В настоящее время он в Ко Рейнджерс гильдии.RUSSIAN
FRENCH
ohn Macbatten a d'abord été présenté comme un agent EITC au service du capitaine Léon. Quand Léon disparu, John a fait un pirate nommé quatre doigts Frank, qui a posé comme Leon. Ce peuple dupé pendant un certain temps, jusqu'à ce que Frank a été découvert et tué. Il est maintenant un pirate qui vit de l'Ile d'Etable de Porc. Il est actuellement dans les Rangers Co. guilde.
SPANISH
John Macbatten fue interpretado por primera vez como oficial de EITC en el servicio del capitán León. Cuando desapareció León, Juan hizo un pirata llamado cuatro dedos Frank, quien se hizo pasar por León. Este pueblo engañado por un tiempo, hasta que Frank fue descubierto y asesinado. Ahora es un pirata que vive de Ile d'Etable de Porc. Actualmente se encuentra en los Rangers Co. gremio.
See also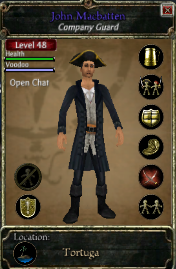 Community content is available under
CC-BY-SA
unless otherwise noted.