Info
| | |
| --- | --- |
| 55px | Lawrence Greasehazzard has reached Notoriety level 29! |

Lawrence Greasehazzard is the main pirate of Cuchifrito1216. He was born in Puerto Rico but moved to Tortuga at the age of 3. Lawrence Greasehazzard is the representative of Twisted Dragon in the Confederacy of Independant Guilds (CIG).
Stats
Guild: Twisted Dragon(Guildmaster)
Favorite Server: Tortos and Abassa
Notoriety: 29
Sword: 23
Gun: 10
Voodoo Doll: 9
Daggers and Throwing Knives: 12
Grenades: 10
Cannon: 14
Sailing: 13
Potions: 9
Fishing: 17
Highest Cannon Defense alone: 12
Highest Cannon Defense in a group: 22
Cannon level: 14
Weapons That Lawrence uses
Sword
Witch Hunter Broadsword
Sea Fang Cutlass
Engraved Broadsword
Orangutan Cutlass
Voodoo Doll
Gun
Dagger and Throwing Knives
Backbiter Dagger
Scallywag's Knives
Voodoo Staff
Item
Bronze Cannon Ram
Bandit's Sea Globe (can't use it yet)
Fishing Rod
Ships
Abandoned Ships
Friends
Charles Chipmonk: lvl 17
Where to find me
I am usually in Tortos or Abassa. During invasions I am usually in Abassa or andaba.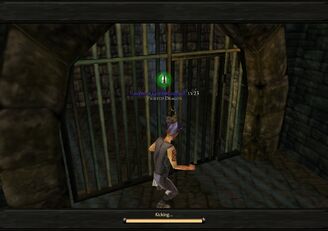 Trivia
Lawrence once was able to kick the Jail cell that started his guild from the outside and got stuck kicking until he exited, he kicked for 2 hours.
He obtained a engraved broadsword by killing a level 2 swamp alligator.
Killed Jolly Roger 3 times.
Battle an undefeatable gravedigger for 2 hours straight.
Completed the black pearl once with only one other crew mate, and the captain.
Got stuck in a ghost war sloop with nobody on board During ship pvp. on the slideshow Pic 31-36.
One time a blue light appeared whenever i went in a building. Pic 81-88.
Highest level enemy defeated Lvl 45 seabeard.
Was in a a GM's crew (rose SOmething)
That's it.