Masters and Skulls was created by Charles Wildhazzard, the guild master of Spartans Savvy Jrs. on April 8, 2011. The guild was then passed to Eliza Heartcutter, who in turn turned the reins of the guild over to Leon Callewrecker. Masters and Skulls guildmaster is now Punkin Pie.
When Leon accepted the mantle of guild master in early June, 2011 there were about 6 people in it. There are now over 120 and growing just a month later. Leon, learned recently that his boat was leaking badly and required a lot of work to fix, so he enlisted the aid of Ophelia Bowbreaker, to take over the mundane task of promotions, and the rare demotion for cause. Leon has now completed repairs to his leaky boat and is again behind the wheel of the guild (ship) Masters and Skulls.
Masters and Skulls is the replacement guild for the former Savvys Elite.

Masters and Skulls is designed to be the perfect melting pot of a guild between Spartans Savvy Jrs and Savvys Academy. For those pirates who like to PVP and SVS we have a Master Level - Double Skull pirate, Rosa Heartsteel, in charge of those guild activities. She will often work with Spartans Savvy Jrs. to make those activities very challenging. For those interested in leveling and questing the close ties with Savvys Academy come in to play. So Masters and Skulls is a guild for everyone
Leon Callewrecker -- Guild Master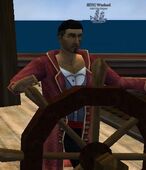 Leon Callewrecker is the guild master and a fine captain of the good guild ship, Masters and Skulls, he is. He has a vision of a guild that is strong, helpful and caring to all members.
He will decide, after gathering the advice of his guild council, who deserves to be punished by being made an officer of the guild. Only those who show they are helpful to their mates by responding to crys of distress and those who can effectively lead a crew in plundering or fighting, will be punished by being promoted. Being an officer is not a piece of cake. There are responsibilitites that go along with the rank.
Ophelia Bowbreaker -- Co-Guild Master
Ophelia B

owbreaker, has been in a few guilds over her career as a pirate. Skully's Xbones - member, Spartans Savvy Jrs. - Officer, Savvy's Academy - Officer, and now as guild master of Masters and Skulls.
Leon, poor pirate, he just hates doing paper work. Had to get down on his virtual knees and beg me to take on the responsibilities of promotions for a short time while he fixed his leaky boat.
So, your humble guild co-gm, will close her part of this page by saying:
== Have Fun and Play Safe ==
Guild Links
Community content is available under
CC-BY-SA
unless otherwise noted.