The Morning Fox
The Morning Fox is captained by
Simon Treasurehawk
, and owned by
Marauder's Militia
. It is rarely used for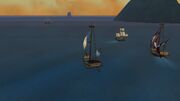 serious combat but used for training, leveling up cannons, and quick voyages. It has never been in a real battle, but if it has a sailor on every cannon it is almost unstoppable.
Bought June 21, 2010.
The Morning Fox can take the
Riptide Wrath's
place as Head of the Armad

a if the Wrath is heavily damaged.
Stats
Captained By: Simon Treasurehawk
In Service: Marauder's Militia
Purchased: June 21, 2010
Class: War Sloop
Highest SvS Streak: 13
Highest SvS Score: 3602
Community content is available under
CC-BY-SA
unless otherwise noted.