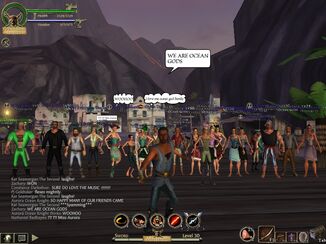 Ocean Gods
The Ocean Gods are a great guild in the Caribbean. In a guild of 500, they had to make a second guild to hold some of the other players who couldn't fit, and they now have over 210 members in that.
About
The Ocean gods are the friendliest bunch of pirates out there. Willing to help anyone, they also enjoy sailing for reputation, leveling on their guild server (Caicos), and attempting to be #1 on the leaderboards!
If you ever want to be apart of this amazing guild, look for them on the Caicos server.
Their GM (Aurora Ocean Knight) is friendly and helpful. As a pirate in the top 40 in all of the Caribbean for ships sunk, she will do anything to get out into the water!
Stats
The Ocean Gods are 3rd overall in ships sunk and 5th overall in enemies defeated.
Along with Charles Badkidd, Tallos Hunter, Aurora Ocean Knight, and others, the Ocean Gods rank on the leaderboards almost every day.
The Ocean Gods are on Facebook! You can find Aurora here.
SHIPS
???
Hope to see you around the caribbean!
Community content is available under
CC-BY-SA
unless otherwise noted.