Line 4:
Line 4:
 

{{MainPageSection|Site Map|Sitemap}}

 

{{MainPageSection|Site Map|Sitemap}}

 

{{FAOTWmainpage

 

{{FAOTWmainpage

 
+

|image=In Too Deep PotCO Story -1 cover 1.png

−

|image=

 
 

|px=600px

 

|px=600px

 

|name=In Too Deep

 

|name=In Too Deep

 

|desc=In Too Deep

 

|desc=In Too Deep

−

|cont=Written by Nults McKagan, and being one of the site's longest pages, written out is a tale of pirates and evil. With much liking by those who have read it, it is best you read it before the spoilers reach you....

+

|cont=Written by Nults McKagan, the site's longest , written out is a tale of pirates and evil. With much liking by those who have read it, it is best you read it before the spoilers reach you....

 

|Reyes De Luz (Albert Spark)}}

 

|Reyes De Luz (Albert Spark)}}

 

{{MainPageSection|Rules|WikiRulesmainpage}}

 

{{MainPageSection|Rules|WikiRulesmainpage}}
---
Revision as of 13:22, 14 November 2013

Welcome to POTCO Players Wiki
The POTCO Players Wiki is a wiki where anyone can create any Gaming themed stories, creations, and adventures!
We are currently editing 5,729 pages with over 753,115 edits, and YOU can join us!
"
You all have given me a reason to live, love, and a reason to put a smile on my face.
"

— Curycoo, Wiki Founder
Site Map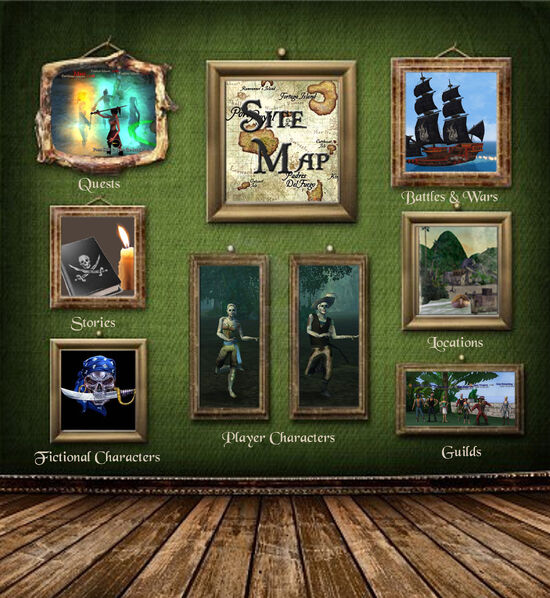 In Too Deep
Written by Nults McKagan, the site's 4th longest page, written out is a tale of pirates and evil. With much liking by those who have read it, it is best you read it before the spoilers reach you.... (read more)


Review written by:
Rules
Some Rules you should remember:
Wiki-Oscars
Voting for the 2016 User Awards starts in December 19, 2016!

A User Award is an award from the wiki. They happen once a year and feature many categories. All the categories will be voted on by Wiki members via a survey.
Wiki News

Hail and Farewell, Friends. A few words from our staff team as the Final generation comes to a close, we we end the Wiki.
1

From Nults McKagan, Administrator

2

From Johnny Goldtimbers, Administrator

3

From…
Help Wanted
We need
your
help with our article stubs! If you can help, please do so. We all would highly appreciate it if all of the pages on the wiki were complete, and written by great editors like you! We thank you in advance for helping us with article stubs.
Thanks for Reading
Thanks for reading the Pirates Online Players Wiki! Have fun editing, so you can become a great skillsmen in coding, template making, and much, much more!
Disclaimer
The 'POTCO Players Wiki' does not associate itself with any posted material posted by users of this Wiki. The 'content' is assumed to be posted with permission of the rightful proprietor. This includes, but not limited to, names of users, players' characters, and guilds; posted photo and video content and copyrighted excerpts, etc...
The 'POTCO Players Wiki' contains multiple articles posted by our users. These articles are fanon and are not to be considered actual lore of their respective franchises. These fan-made articles can be distinguished by categories including, but not limited to, Fan Characters, Fan Stories, Fan Creations, etc… By entering or participating with the 'POTCO Players Wiki' by any means you agree to accept and follow our Rules. By breaking these rules you are subjected to an immediate ban by one of our Administrators. If you decide to use our Discord feature you also agree to the specific rules and guidelines found on the Discord.
Any Content suspected of a copyright violation will be removed immediately and the posting user will be warned. If you suspect any posted content is in violation of a copyright please inform one of our Administrators and we will remove it immediately.
Most importantly, enjoy your time here at the 'POTCO Players Wiki'