Peter Plankwrecker



Place of Birth:

London, England

Parents:

James Plankwrecker (Father)

Olivia Plankwrecker (Mother)

Brother:

Wife:

Jenny Plankwrecker

Children:

A Son

Affiliation:

England

War/Battles:

Unknown

Titles:

Agent
Early life
As A Young Boy he Was born on May 12, 1720 in London, england To a Mother and a father and a Brother. His Mother was a Waitress, his father was a Worker in London Docks, by Moving some crate to the ship and his Grandpa was a Soldiers to John Stead who was Ishamel Great-Grandfather in the 1630s War. After the Fight he came back home to see his family. Then he made friends with a Boy Name Ishmael Venables. He was united with Ishmael in prison as he recuits him to join the most spy group ever.This is Peter Story.
New Friends
After his Father return Home, he saw a Boy walking down the street when he was 13 and he ask him to be Friends with him and his Name Was Ishmael Venables and he Said " Sure I Will Be your Friend ". Couple Month ago he and Ishmael were Friends and Later he found out that his brother was born. So he ran to the House and His Brother was Born and his Brother name was Justin Plankwrecker. After that his best friend went to war, as he stay home with his family while he took care of the farm and his family.
Arrested and sent to Prison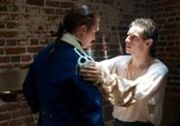 "Tell me Ishmael, why are you here?" "I am here to recruit you" Peter to Ishmael
At age of 21, he was out on a fishing boat to sent some supplies to the family during the time, some British vessels came and capture his fishing boat as they took him away to Tower of London, as the guard and other one begin to interrogate Peter while drowning him in a bucket of water til a man came downstair and order them to stand down. Peter sightly turn around and saw Ishmael in a shiny new blue uniform as he took his dragoon hat off, as Peter Shake his hand and said "Ishmael! Been long time!" "Indeed Peter!", "So why are you here?", "I am here to recruit you to be part of the spy group". He ask him to join his spy group to defeat the Spanish in the war and finally he accepted it.
Video
Community content is available under
CC-BY-SA
unless otherwise noted.