Port Tariff is, or was selected as the Featured Article of the Week!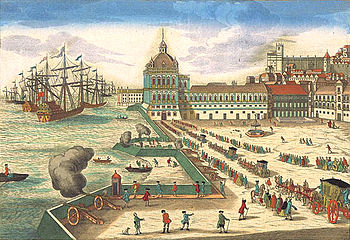 Port Tariff is a port in the Caribbean, established by Royal British Navy of the king's orders.
Port Tariff NewsEdit
4/29/1744Edit
Port Tariff has been seeing an increase in EITC traffic in recent days
Construction on the fort has reached an all-time high; people are working as much as 15 hours a day
Port Tariff has not heard from a nearby outpost in recent days, causing concern that the isolated outpost may be in trouble.
Lord Blastshot has been seen at the office of Lord Howe recently, and security has been raised.
Samuel Redbeard and certain followers restricted from Port Tariff, due to their own safety
More cannons and ships arriving at Port Tariff
Tax raised for citizen merchants
The nearby outpost has been searched, and signs of a raid have been found. Several corpses were found, the rest were missing.
Samuel Redbeard banned
2,000 additional Guards arrive
Nelson's Column Built to honor Horatio Nelson
HMS Victory returns to England
5/21/1744Edit
Port Tariff Defense fleet returns to England ( Temporarily )
Royal Navy Parade Held
Fort Nelson receives supplies from Fort Fredrick
Lord Blastshot returns to Port Tariff from Europe and is Welcomed Back
5/26/1744Edit
Royal Navy Academy established on Port Tariff
7/19/1744Edit
Port Tariff begins to truly flourish
Precautions are taken against new Spaniard king
Construction of a new fort begins
Port Tariff welcomes the addition of New Businesses
Port Tariff is named the new Headquarters of British Warfare in the Caribbean
Lord Blastshot approves the new set of Laws.