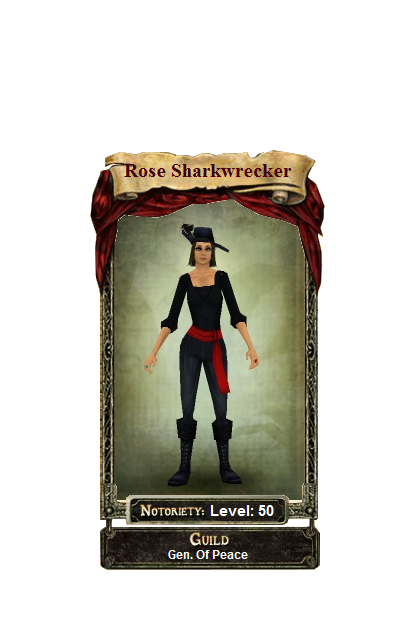 Rose Sharkwrecker is a great pirate and fighter and a true friend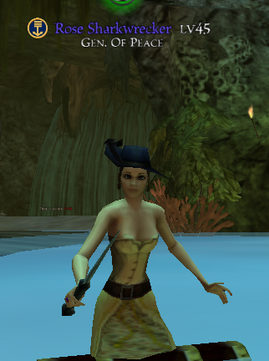 She started her pirate life in 2009. While she was at a Tortuga Invasion, a strange person named Jack asked her to join the Genrals of Chetik. She was going to press no but clicked yes but decided to stay anyways. A pirate named Sugar gave her a warm welcome and quickly became Rose's best friend. One day the GM of her guild misteriously quit the game and the guild was forever lost. She left and went to several other guilds before joining the Chetik Union. She quickly rose to third in command and met an awesome friend named Bill. The Chetik Union fell apard so Rose made her own guild called The Flages of Jolly. She then left and joined a guild called the Genrals of Peace where she met Sugar and Bill again. The guildmaster Red quit too so Lawerence Daggerpaine made a new and improved guild called the Gen. Of Peace. She is still in the Gen. Of Peace to this very day and is the best guild she has ever been in.
Userboxes
| | |
| --- | --- |
| | Rose Sharkwrecker is in possession of the Lost Sword of El Patron! |
| | |
| --- | --- |
| | Rose Sharkwrecker has reached Notoriety level 50 and joined the No Groggy Club! |
Facts
Her favorite gun is the Shadow Stalker Repeater
Her favorite sword is the Sharkfang Sword
Her favorite animals are sharks, dolphins, jellyfish, and tigers but loves all animals
She can never get enough pizza, tacos, or chocolate
She hates being basic and loves being unlimited
She loves bright clothing and dresses more than anything
Reached level 50 on December 10, 2011.
Friends
{C Cherie - Best friend and my go to fashion expert
Bill Plunderbones- Awesome friend who will always give you a challenge
Lawerence Daggerpaine- Best GM in the world and very random person
Sugar/ Bess Firebones - A good friend that I have known since i started playing
Janet Blastkidd- A good friend I met while sinking the doing scounderls
Jack Warskull- A good person to talk about sports with
Favorite Music
NOTE: The first few are on some dude playing them on a piano because I think its really cool how he plays so DEAL WITH IT! Lol jk :D
Weapons
Lost Sword of El Patron
Shadow Stalker Repeater
Bitter End
Taboo Doll
Sharkfang Knives
Sharkfang Blade
Vipers Den Knives
Sacred Cutlass
Scoundrels Musket
Fullmoon Special Blunderbuss
Privateers Bayonet
Skeleton Doll
Corsairs Bayonet
Bush Master Pistol
Exenicutors Pistol
Bejeweled Broadsword
Bloodfire Broadsword
Bloodfire Sabre
Clothing
Adventure Hat
Adventure Coat
Adventure Belt
Adventure Shirt
Adventure Pants
Navy Blue Shirt
Bright Blue Puffy Shirt
Bright Red Sash
Bright Orange Shirt
Bright Orange Sash
Court Blouse
Purple Eblem Shirt
Holiday Outfit
Purple Dress
Yellow Dress
Light Blue Dress
Red Dress
Castle Boots
Plank Walker Boots
Suede Tall Boots
Purple Riding Boots