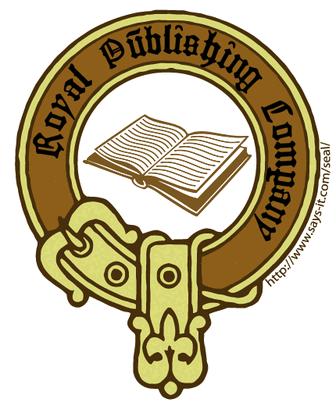 Welcome to the page of the Royal Publishing Company! We do hope you enjoy our page. Feel free to leave feedback in the comments section below! If you see a problem with the page, like a spelling error, feel free to fix it. However, if you want something rephrased, please send us a message on our talk page, here!
Who We Are
The Royal Publishing Company was founded in England in 1725 (2011). It's founder, King John Breasly, made it as a way for common every day wikia writers to have their work officially displayed and published (not literally). If you want to join, send a message to us, here.
Want to be Published?
Option One
If you want to add your article to the Royal Publishing Company, please add your name (in POTCO) and the article you want to submit. We will edit and overview it, and then give it a sponsor page banner . Here's an example:
Please remember to link your name to the article.
Option Two
If you have your article, but don't want to add it to a page, we can help. Type it up somewhere outside the wikia (preferably Microsoft Word) without any other fonts than Times New Roman. Then, copy it, and come to our talk page, here. Paste it in a message (ctrl+v). Make the subject the title of the article. We will then add the page with a publisher page banner.
What We Do Not Accept
We will not accept user pages, talk pages, blogs, or templates.
List of Currently Published Articles
Published
Workers
REDIRECT User:Batorhos/Sig ~ Junior Director
Jobs
Director—Leads the Royal Publishing Company
Junior Director—Leads the Royal Publishing Company behind Director
Q&A Director—Answers Q&As
Publishing Advertisement Director—Makes sure all page banners of published articles are up-to-date
Reviewer—Review submitted articles
More coming soon!
Q&A
We are sorry, currently there is no Q&A submitted. Please visit our Q&A page, and leave us a message. We will then post your question and the answer here, and it will be deleted from our Q&A submitting page.
Check out our Q&A area: Talk:Royal Publishing Company
Community content is available under
CC-BY-SA
unless otherwise noted.