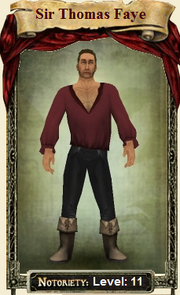 Early life
Thomas grew up in the city of London, living in the shadow of his father Lord Daniel Faye who was a Director of Affairs for the EITC. As a young man Faye showed little interest in the business of his father and cared more passionately about discovery. His father, who was disappointed in the aspirations of his son secured a place for him as first lieutenant on board a ship bound for America. Thomas now around 22 had little experience in naval combat and had trained tirelessly with the rapier, his weapon of choice. The voyage to America proved to be uneventful however he did meet a friend named Estyle who felt as passionately about Adventure as Thomas did, Estyle also was a lieutenant. After living in the New World with Estyle for 3 years Thomas had seen little action and grew more and mire interested in the Natives who he had yet to see. Estyle,also curious organised an expedition into unknown territory Thomas starved of action could not resist the opportunity and headed out with Estyle and 21 others, many of whom where members of the crew of the ship which had taken Thomas to America. That night when crossing a river the expedition was attacked, Estyle and Thomas fought valiantly but soon the expedition was crushed under the weight of the natives numbers. Estyle lead a small counter attack in order to give Thomas the chance to escape, which he reluctantly did. When Thomas returned to the settlement he spent many weeks wondering if Estyle had survived until one day a horse rode in, it was Thomas' hose on top was a blanket covering something, Thomas lifted the blanket to find Estyles scalped corpse from that day a violent hatred of any kind of Natives burned in Thomas' heart. His father hearing what had happened told a London news agent the tale and presented them with various letters from Thomas the story was published on the front page of the paper and gained traction which lead to Thomas being knighted.
The Caribbean
After spending some time in London Thomas joined the EITC, just as his father had intended and was transferred to the Caribbean.He arrived in Port Royal, which was a troubled place at the time to open up a trading post for the Company this made Thomas, and the Company very rich and lead to him buying a large property in Port Royal. Thomas soon settled in Port Royal and has made many good friends, such as the Governor Swann. Thomas had two children Henry and Matthew who both had fruitful careers in the Privateers and Royal Navy.
Family
Matthew Blastshot/Faye, son.
Henry Blastshot/Faye, son.
Community content is available under
CC-BY-SA
unless otherwise noted.