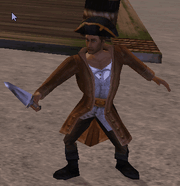 The Soldiers of Honor guild is a anti-co guild led by Admiral Quiz.
It is a very young guild so we don't have a lot of classes or ranks.
Navy Ranks: Cadet, Veteran, Officer, First Officer, Sgt, Sgt. Major, Captain, Commodore, vice-admiral, High Commodore, Elite Navy Soldier, Vice/High/Grand Admiral
Marine Ranks: Private, CoroporAL, Sgt, Officer, First Officer, Litenuant, Second Litenuant, Elite Marine
Royal Guards: Private, corporal, sgt, officer, first officer, lieutenant, first lieutenant, second lieutenant, major, elite guard, Captain of the Guard
Some Known Uniforms:


So what are you waiting for join us now!
Reedem Invitation Code:RXAY8522
Guild Name: Soldiers of Honor
[http://www.youtube.com/watch?v=e2Ma4BvMUwU ]
The Soldiers of Honor Navy has taken control of the Hinterseas, Leeward Passage, Smmuglers Run, Port Royal, Mar de Plata, and Cuba
Plans of War
Taking over Port Royal- Complete.
Alliance with the crew of the Dutchman-complete.
Taking Control over the Spanish Island-complete.
Death of Eduardo Singolla(Sp. and Fr. undead pirate Lord )- complete.
Taking over Kingshead- Incomplete.
La Guerra de Plata
The Battle of the Plata Sea has come back. Many notorious pirates and soldiers have come back and everyone fought to conquer Mar de Plata.
Our first battle was on the 29.11 we and the Francis Brigade successfully managed to destroy the EITC and Spanish fleet.
The battle will influence Kingshead a lot, EITC men have got such a great amount of reinforcments from Kingshead. I demand we take over as soon as possible. The Na
Our Anthem