About
The Cheeses is a group who likes cheese! This group uses cheese to eat, fight, and more! Their leader is Basil Bridgebain! The Cheeses enemy is the Anti-Cheeses! (A.C. is not a page yet, soon to be made.) The Anti-Cheeses are a group of people like The Cheeses, but they HATE cheese! However, this group eats cheese almost everyday! Some of The Cheese's weapons are: Cheese Ion Cannon, Cheese Gun, and Cheesy Knives!
Members
Basil Bridgebain
Grunt56
Captain Ezekiel
Marc Cannonshot
Boogiemango
Lord Cad Bane
[[KatBluedog
Want to join? Leave a message on Basil's Talk page!

Basil Bridgebain, Guildmaster of Boss Buster Lords

The Big Cheese
And all these members have come together to destroy the Blue Cheese, and the Anti-Cheeses! Because who DOESNT l ike cheese? (haters)
Pictures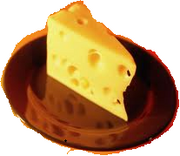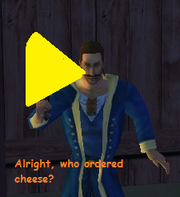 Community content is available under
CC-BY-SA
unless otherwise noted.