The Empire of Morocco is an outdated article. No further edits on this page are needed, unless they are spelling mistakes. This page acts as a Historical Document and is not intended to start any arguments or hurt feelings.
The Sultanate of Morocco



Capital:

Rabat

Government Type:

Sultanate

Sultan:

Official Religion(s):

Islam (Morocco)

Hindu (Nepal)

Official Language(s):

Berber (Morocco)

Arabic (Morocco; written only)

Nepali (Nepal)

Area:

593,800 km²
     The Empire of Morocco (الإمبراطورية المغربية) or the Sultanate of Morocco (سلطنة المغرب) is a country located in Northern Africa. After the annexation of Nepal, however, Morocco also has territory in Asia.
Currently, the Empire of Morocco's government is run as a Sultanate. Richard Cannonwalker is the current Sultan of Morocco, and exercises unlimited power over the Moroccan people. However, since Nepalese territories are so far from Rabat, a Vice-Sultan of Nepal is to be appointed. The Lords act as advisers.
The Moroccan Empire
Map of the Moroccan Empire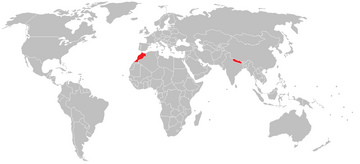 All areas that are in the possession of the Moroccan Empire are highlighted in red on the map.  The areas in possession of the Moroccan Empire include not only the original territory in which the state of Morocco was founded upon, but include the territories located within Nepal following the annexation of Nepal to Morocco in the early January of 1746.
Territories
Africa
Morocco
Tangier
Rabat
Asia
Kathmandu
Janakpur
Rapti
Karnali
Mahakali
Narayani
Territorial History
(Early January, 1746) The recently-united Nepalese Kingdom joins together with Morocco to become one Empire
(Unknown, 1746) The Moroccan Empire has been ceded to Romania (which is later merged with the Ottoman Empire)
Governmental Leaders
Sultan of Morocco -  Richard Cannonwalker
The Vice-Sultan of Nepal - Vacant
The Lord of Kathmandu -  Vacant
The Lord of Janakpur - Vacant
The Lord of Mahakali - Vacant
The Lord of Rapti - Vacant
The Lord of Karnali - Vacant
The Lord of Narayani - Vacant
The Lord of Morocco - Vacant
The Lord of Tangier - Vacant
The Lord of Rabat - Vacant
Throne Successors
For the time being, no heirs have been appointed to take Sultan Richard's empire when he's unable to rule it.
Moroccan Guilds
Wars Fought In
The Anglo-Nepalese War (December 26, 1745)

Decisive British victory
British claims to Nepal relinquished
Diplomatic Relations
Diplomatic Standings
Countries
The Empire of Russia - Allied
The Ottoman Empire - Allied
The Republic of Genoa - Neutral
The Republic of Venice - Neutral
The Empire of Japan - Allied
The Kingdom of Switzerland - Neutral
The Kingdom of Great Britain & Ireland - Neutral
The British 13 Colonies - Neutral
The Empire of Austria - Neutral
The Kingdom of Prussia - Neutral
The Kingdom of France - Allied
The Protectorate of New France - Neutral
The Kingdom of the United Provinces - Neutral
The Kingdom of Sweden - Neutral
The Kingdom of Denmark - Neutral
The Kingdom of Italy - Neutral
The Kingdom of China - Neutral
The Empire of Persia - Allied
The Kingdom of Portugal - Neutral
The Kingdom of Spain - Neutral
The Protectorate of New Spain - Neutral
The Empire of Romania - Neutral
The Electorate of Bavaria - Neutral
The Kingdom of Sardinia - Neutral
The Grand Duchy of Hesse - Neutral
Guilds/Factions
The 8th Brethren Court - Allied