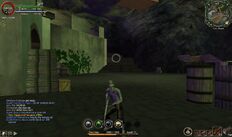 Is an old guild that was made up of Pirates that pretended to be skeletons from Jolly Roger's army, after It's defeat at the hands of Captain Jim Logan and the Illustrious Front Lines, it was deleted as they were disbanded. It was discovered in mid 2010 that they were still active acting as villains, as some of them lead mutinies against captains and stole their ships. The Skull Clan was offically deleted in April 2011.
Members
Although the Skull Clan has had many leader changes here is the most notable
Captain Chris Jericho (Original Leader, he formed it when he wanted to be the Player Pirate King) June 1, 2009 – July 4, 2009
Captain Bone (Now deleted) July 6, 2009- January 2, 2010 (Longest running leader to date)
Captain Chris Jericho January 2, 2010 - May 2010
Dog O'Hawk May 2010 - September 1, 2010 (Revealed by a mutiny)
anonymous-September 4, 2010- January 1, 2011
No one (Civil war to declare who is new leader)
Skull Clan Disbanded.
Community content is available under
CC-BY-SA
unless otherwise noted.