Guildmaster: Lawrence Greasehazzard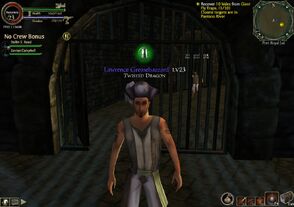 First Mate: Jason Warhound
This Guild is a navy guild.
Twisted Dragon is a member of the Confederacy of Independant Guilds.
It was made originally as a navy guild but then they became pirates because the were low on funds and members. This guild has Around 65 to 75 members so far. They have training sessions in the old warehouse.
Everyone over level 5 officers.
everyone between 5 and 2 will be veterans.
1 and 2 will be members.
be nice or you get kicked off.
The Unlimited invite code is SAKZ3863.
News
september 25: We are at war with the AEOF and the Covenant Empire.
Ranks
First Mate: Jason Warhound
Main squadron leader: Geogator
Dap Dapworth: Second In Command
Marc Suncrash: Scout
Rose Redfury: Sergent
Robinson: Lt.
Nate Stormburn: Soldier gr. 1
Simon Bilgeswine: Soldier gr.1
Rachel Wildbreaker: Soldier gr.1
Rose Suncastle: Soldier gr.2
Buccaneer: Soldier gr.2