~This petition is now closed, thank you to everyone who supported.~
Hello, and today, the process begins again, as it did with the "Revive POTCO petition"
I emailed Disney regarding POTCO before the holidays, and I have recieved this message back: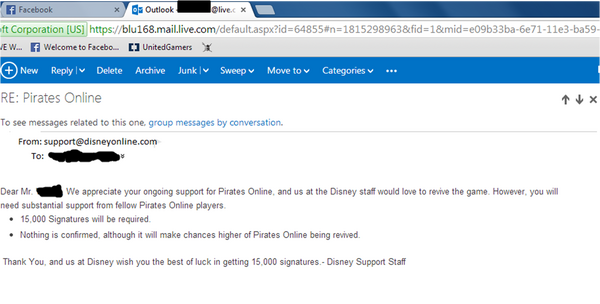 Anything is possible. We can do it. Post your name in the comments to sign. This is nothing like the revive petition, it's happening right here, right now.
TWITTER: #RevivePiratesOnline
Facebook: Page being made
Signature's
Captain Ned Edgewalker
Nults McKagan
Reyes De Luz (Albert Spark)
Sir Hawke
Peter Coalvane
G-man.
Blake Stuart
Johnny Goldtimbers
Jim Logan
Bobby Moon
King Yellowfish I
Madster.
FluffyKitty1
Lord Hector Wildhayes
Lord Andrew Mallace
Beautiful Blonde
Parax.
X Jumper
Method X
Bill Seaphantom
Mari Gold
Ishmael Venables
Hannah Bluefeather
Wizard375
Garrick. W
Ned Daggerkidd
King Ryan the Legend (Ryan)
Jadekwheat (Jade Sharkskull)
Haras (Pencil-Boy)
Kwager Otca 
Capt Skull X
Community content is available under
CC-BY-SA
unless otherwise noted.