Hey <insert name here>,
Are you tired of of having to type the same edit summary allover again,well now with Standard Edit Summaries you don't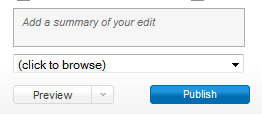 have to with edit summaries for nearly all types of Wiki Edits:Templates,Blogs and Pages.There are 5 Categories of edits to choose from when you select an option from the drop down menu,it will automatically add it to the edit Summary Box.This feature may be faulty in mono book with the drop down showing but no options to choose(I am working on this).
To see this new feature refresh your cache by:
Internet Explorer: hold down the Ctrl key and click the Refresh or Reload button, or press Ctrl+F5.
Firefox: hold down the Shift key while clicking Reload; alternatively press Ctrl+F5 or Ctrl-Shift-R.
Opera users have to clear their caches through Tools→Preferences
Konqueror and Safari users can just click the Reload button.
Chrome: press Ctrl+F5 or Shift+F

Want to receive updates on the latest blog posts by Tama? Then click here to follow this blog.

Community content is available under
CC-BY-SA
unless otherwise noted.