This is an Administrative Blog!
Please do not spam this page with unnecessary comments.
NOTE: Spamming on this blog will result in
a warning and deletion of comment.

Ahoy <insert name here> !
This Halloween can be a hard time for a pirate, especially when Jolly Roger's Forces are at their highest.Thats why we are giving away a free game card for 1 months unlimited access to keep you going through this spooky holiday
The Rules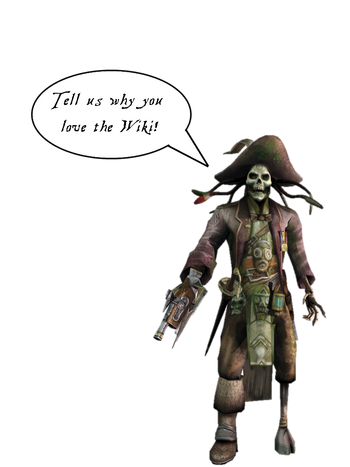 You will need a Wiki account or create one for the competition
Only 1 Entry per User(no socks)
No Smearing other Wikis in your entry
No bad mouthing the wiki in your entry
Any unsuitable entries will be removed without warning
The Winner is Final as chosen by The Judges (Kat,Gold and Tama)
How to enter?
Just comment below telling us why you love the POTCO Players Wiki.We will then choose who we think has summarized the best bits about this Wiki.Worthy winners and will be emailed the game card code by Special:EmailUser or by PM-Message on Chat.NOTE:For Security Reasons we will not be passing on the code on game!
Benefits of the Prize
The Winner
Community content is available under
CC-BY-SA
unless otherwise noted.