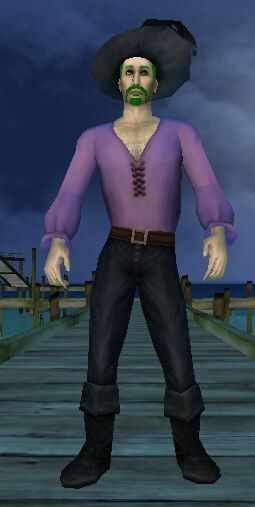 About Will Blueswain
Will Blueswain is Katbluedog's second pirate. I decided to create a male pirate for many reasons. I know that I am a girl with a male pirate but why should it matter? I like having a guy pirate for many reasons. I want to get facial hair and long vests. I can't grow facial hair in real life since I am a girl (rofl). I also wanted to see a different side of playing pirates. I am slowly working on leveling up this pirate but I want to use him to get a different cursed blade from El Patron. Eventually I may give Kat Bluebonnet the second cursed blade that Will earns or maybe I will keep it. This pirate will do the staff quest before the Raven's Cove quest. I hate sinking ships so the main quest is taking a long time to do. You may edit this page to fix spelling errors or coding problems.
| | |
| --- | --- |
| Skill | Level |
| Sword | Level: 27 |
| Gun | Level: 24 |
| Doll | Level: 13 |
| Dagger | Level: 16 |
| Grenade | Level: 4 |
| Staff | Level: 13 |
| Sailing | Level: 10 |
| Cannon | Level: 21 |
| Potions | Level: 8 |
| Fishing | Level: 16 |
Quick Facts
Working on leveling sword/gun.
Also working on Staff too.
Just started working on fishing.
Member of Blue Scurvy Dogs.
Ship Names
Scarlet Phoenix-Brig
Fire-Sail Stallion-Light Sloop
Shadow Dog-Frigate
Famed Weapons
Bejeweled Sabre- December 1, 2010. I can finally use it!! :D
Assassin's Cutlass- December 10, 2010.
Spinecrest Sword- Febuary 18th. 2010. I have gotten this sword three times because of the resets.
Where to find him
Cortevos,Tortos and Vachira. You may see him at invasions now since he is past level 20.
Family
Images
Userboxes
| | |
| --- | --- |
| 55px | Will Blueswain has reached Notoriety level 33! |