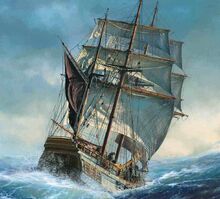 William Pratton was a merchant in later 1600s - early 1700s England. He took a strong moral stance against slavery, which ultimately stopped him from becoming very wealthy. He traded mostly in timber, tobacco, and tea. Most of his earnings went to the head of his trading company and so, he did not make as much as average merchants would have.
William only had one encounter with pirates. This was when he was robbed by Blackbeard whilst taking a considerable amount of tea to Port Royal. He and his crew's lives were spared when he promised to give up the cargo without a fight, if the pirates would leave the ship and crew alive.
William retired at the age of 65, and lived peacefully in Liverpool for the rest of his life.
William Pratton is the father of Simon Pratton.
Community content is available under
CC-BY-SA
unless otherwise noted.